Chinese Kitchen Gear
I have a confession to make. My kitchen is about as ordinary as they come. There are no granite countertops or expensive kitchen gadgets. I use an old Maytag gas range, a ten-year-old stainless steel wok, a cast iron skillet I bought at a yard sale, a beaten-up wooden spatula, and a mismatched collection of kitchen knives and other utensils that I've gathered over the years. About the only thing that might be considered unusual in most American kitchens is a rice cooker, and even that's nothing special — it's an old Betty Crocker model with a missing cover (we substitute an aluminum lid from another pot).
Why am I telling you this? It's to demonstrate that even the most ordinary kitchens can make great-tasting Chinese dishes. Moreover, you probably already have the necessary kitchen gear to prepare the recipes in Easy Chinese Recipes In 30 Minutes.
Wok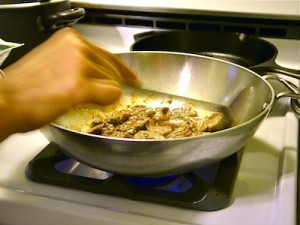 You will need a large wok or a skillet for many dishes in Easy Chinese Recipes In 30 Minutes, such as Fried Rice, Chicken With Green Peppers and Shrimp With Celery. I do not recommend using nonstick woks or skillets, as they do not brown meat or tofu that well and the surface deteriorates over time. I use an All-Clad stainless steel wok (see inset photo), but my fallback is an old cast-iron skillet which browns nicely. For the dishes in Easy Chinese Recipes In 30 Minutes, the wok or skillet should be at least 12″ in diameter and have a lid. A list of best woks for stir fries can be found here.
Dutch Oven
These versatile heavy pots are great for dishes such as Red-Braised Pork and Three Cups Chicken. We own a La Creuset, but have also used a Thomas/Rosenthal Group pot made of anodized steel.
Rice Cooker
Rice cookers are optional, but I've found they save a lot of time and eliminate worries about the rice burning or being overcooked on the range. Most modern rice cookers have nonstick interiors, which make for easy scooping. Popular brands include Panasonic/National, Aroma, and Oster.
A note about rice:
While the dishes in Easy Chinese Recipes In 30 Minutes can be served with any variety of unflavored white or brown rice, I recommend Chinese or Japanese varieties, if available. Most large supermarkets I've been to offer an uncooked brand called "Nishiki", which we use at home. It's slightly sticky, which makes for easier chopstick use!
Knives
A long, heavy knife for cutting meat and vegetables is required. Our main kitchen knives are 10" Wustof and David Burke knives suitable for cutting meat. See chineserecipes.in30minutes.com for photos and other information. A small paring knife is useful for deseeding peppers, cutting the ends off of garlic cloves, cutting shrimp, etc.